website
Employee Turnover UNVEILED 2018: Webinar on Nov 8th & 13th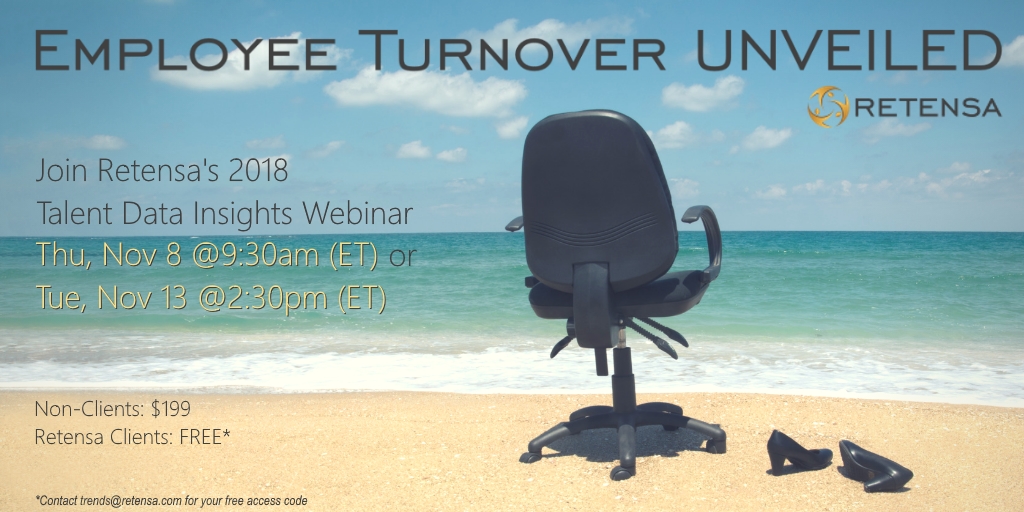 Did you know that every year we hide from the sun for 3 weeks to look at separation data across industries in one giant super geek analysis? Yes indeed!
Let our Vitamin D deficiency be your gain.
And no, we are not cocooning, we just want you to know:
What is the top reason people leave in 2018?

How should we rethink the work-life equation?

Why millennials quit so easily?

Where to focus first to create a culture of retention?

Is compensation the #1 reason for resignation? (Hey, we know how to rhyme!)
Thursday, November 8 @ 9:30 AM (NYC) / 2:30 PM (London)
or Tuesday, November 13 @ 2:30 PM (NYC) / 11:30 AM (San Francisco)
Join HERE to Unveil the Answers
Retensians love to hang out with data because data knows many secrets. The team always finds impressive connections on why employees join & stay at your company. And guess what? They want to share the secret with YOU!
This year they examined a bajillion data points across 18 industries, to discover why employees quit their jobs in 2018.
Join the most concentrated 1 hour all year to hear (very) surprising facts about what employees really want, why people leave jobs they actually love (seriously, why?), and much more.
Employee Turnover UNVEILED:2018 Talent Data Insights Webinar
Non-clients: $199
Retensa clients: FREE*
All attendees will receive:
60 minutes of fresh insights to target your retention strategy

Advanced analysis of the separation trends (PDF report)

Answers to what makes current turnover different

Eternal bliss
We'll see you there!
*Exclusive for Retensa clients. Please register with your work email. All registrants are verified prior to attending the webinar. Please contact trends@retensa.com for your promo code