website
FOR IMMEDIATE RELEASE
New York, NY, September 2020:
Employee wellbeing now confronts every employer like never before. The workplace is undergoing a complete transformation. With offices reopening and as employees return to work, companies will follow social distancing guidelines to ensure their team is safe and healthy. To connect, communicate, and support leadership and employees, leading employee retention experts, Retensa launched the "Safe Workplace Survey". It is the third free tool launched by Retensa, to support companies with COVID19 challenges.
In a quick questionnaire, employers can address this reality and reassure employees that the workplaces are safe. The Safe Workplace Survey is a pulse survey that captures exposure or potential risks of COVID19 spread. It also reinforces safety guidelines are followed with all employees and identify & monitors sources of entry. This free COVID19 survey tool will help employers and employees focus on being productive and increase confidence about their safety at work.
With CDC (Center for Disease Control and Prevention) and WHO (World Health Organization) guidelines applied, the Safe Workplace Survey was designed for universal use across all industries. Close proximity transfer can occur in manufacturing, food processing, and construction as well as in an office. Preventing transmission is especially relevant to transportation, education, healthcare, restaurants and retail where repeated public contact occurs. Employers who standardize return to work safety protocols are less likely to be at risk, and more likely to minimize exposure if it does occur.
During this turmoil, Retensa will support every company leader, to ensure their employees are heard, helped, and have what they need to feel safe. Take advantage of all free tools provided in the Employee Wellness Toolkit including the School Reopening Survey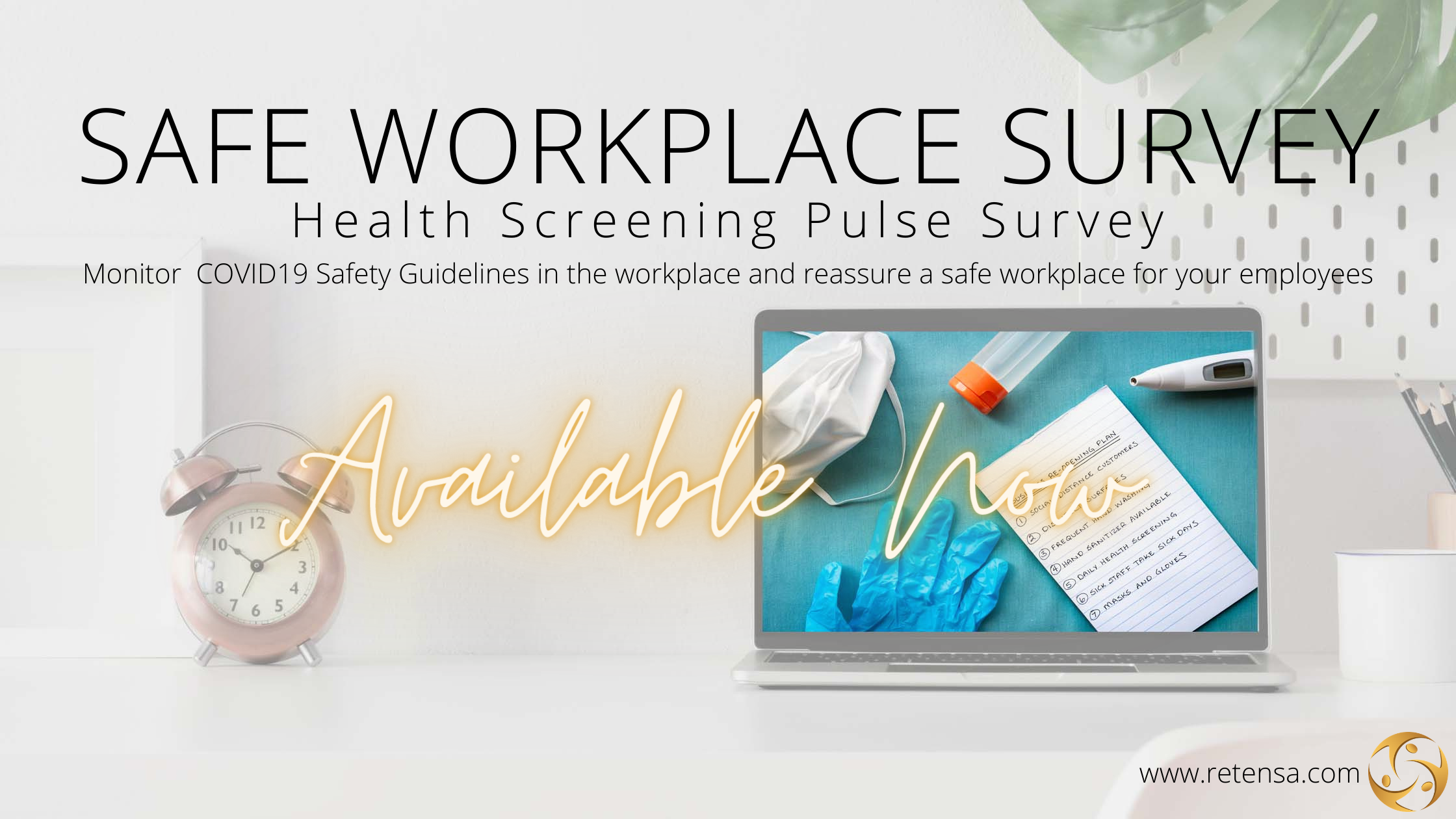 About Retensa
Retensa addresses the social and economic impact of employee turnover for organizations in 54 countries and 21 languages. They combine predictive analytics software and retention strategies to attract, motivate, and retain top talent. To create the "Retention Environment," Retensa provides expertise in People Analytics, Employee Surveys, Exit Interviews, and Talent Management Solutions. Access the free Safe Workplace Survey here.