Graycell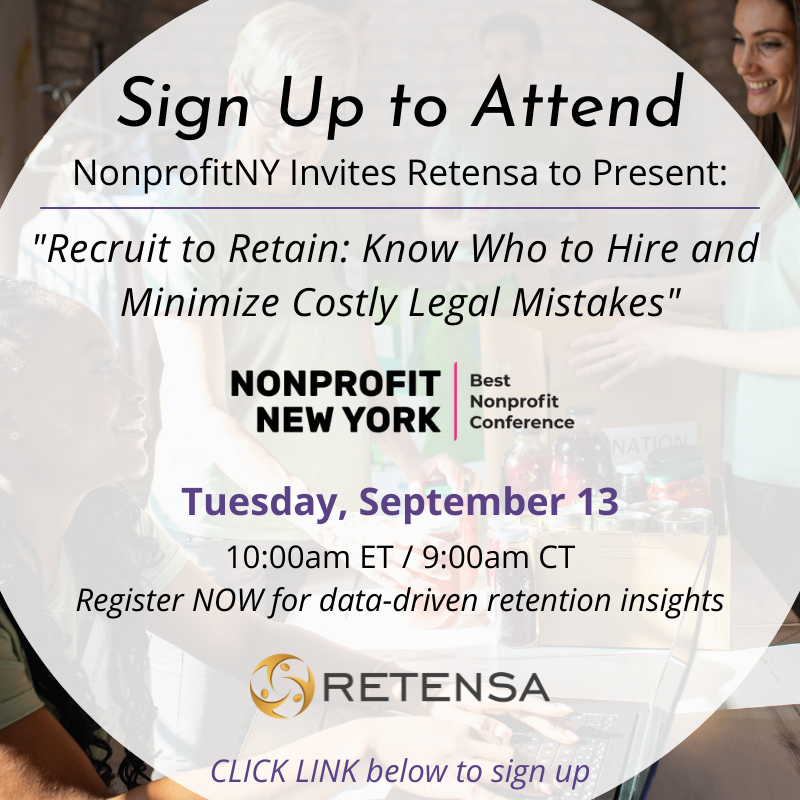 Are you a nonprofit employer? You can't recruit your way out of this
Nonprofit NY invites Retensa to speak at "Recruit to Retain: Know Who to Hire and Minimize Costly Legal Mistakes." Gain retention insights to retain not-for-profit staff. Retensa CEO, Chason Hecht, is speaking alongside Lisa Brauner, Partner at Schnader Harrison Segal & Lewis LLP.
What will I learn in this webinar?
How to diagnose, predict, and prevent not-for-profit staff turnover
Improve the employee experience at each stage of the employee lifecycle
Accelerate positive organizational change for nonprofits
Minimize risk of costly legal mistakes when recruiting and hiring employees
Tuesday, September 13th, 2022
9:00am CT / 10:00am ET
Who Should Attend?
Executive Directors of Nonprofit / Government / Workforce Development
CHROs, CFOs, and COOs
HR Directors, Recruiters, and Hiring Managers
Directors of Development & Philanthropy
About Nonprofit NY:
Nonprofit New York (formerly NPCC) exists to strengthen and unite New York's nonprofits. We're building a thriving community of extraordinary nonprofits — a relentless, collective force for good. With nearly 1,600 member organizations, we've been building a powerful nonprofit community in New York for 35 years, driven by the belief that when one nonprofit is stronger, all of us are stronger. Nonprofit New York is a 501(c)3 nonprofit membership organization based in Manhattan. Visit www.nonprofitnewyork.org for more information.