Graycell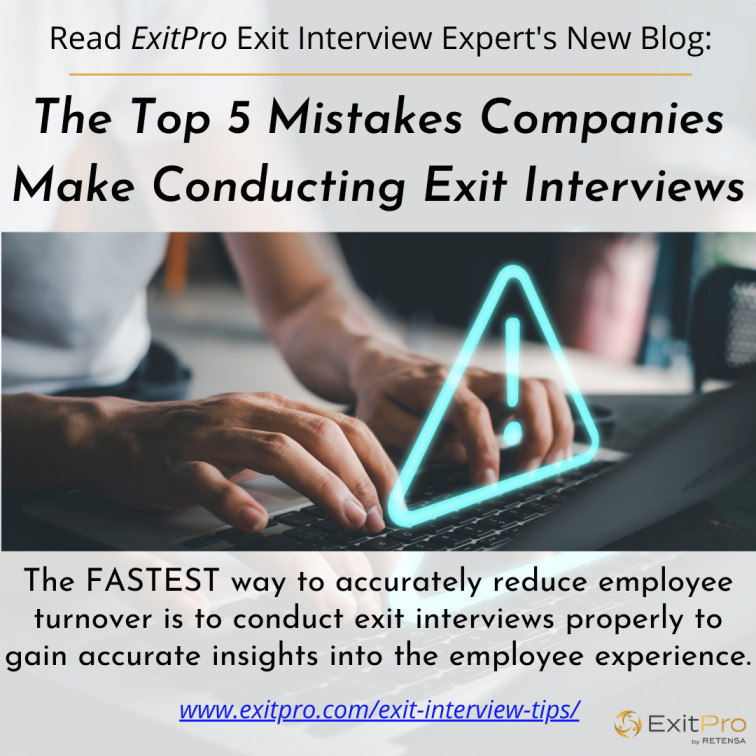 75% of companies conduct exit surveys. But employee feedback is only analyzed by 38%
ExitPro publishes a NEW blog, "The Top 5 Mistakes Companies Make Conducting Exit Interviews" by Talent Management Consultant, Corinne Ghorayeb.
Read the exit survey blog to:
Reduce employee turnover by 5-10% with the best exit interview process

Improve employee retention strategies with exit interview tips

Convert employee feedback into organizational change

Avoid these common exit interview mistakes to retain top talent
The FASTEST way to accurately reduce employee turnover is to conduct exit interviews properly to gain accurate insights into the employee experience. Read the blog for exit interview tips.
READ THE EXIT INTERVIEW BLOG HERE
About ExitPro:
ExitPro's secure exit interview software is the leading provider of global exit interviews. Created from the most successful exit interview survey questions, ExitPro automates and streamlines exit interview templates for 50 to 50,000 employees. ExitPro's one-click exit interview forms are available in 21 languages in 59 countries, with customizable Turnover Reports and Advanced Dashboard analytics to predict staff turnover. Additional Live Voice (phone), SMS Text, & Kiosk services are available.