website
 Employee Turnover UNVEILED 2019: Webinar on Dec 12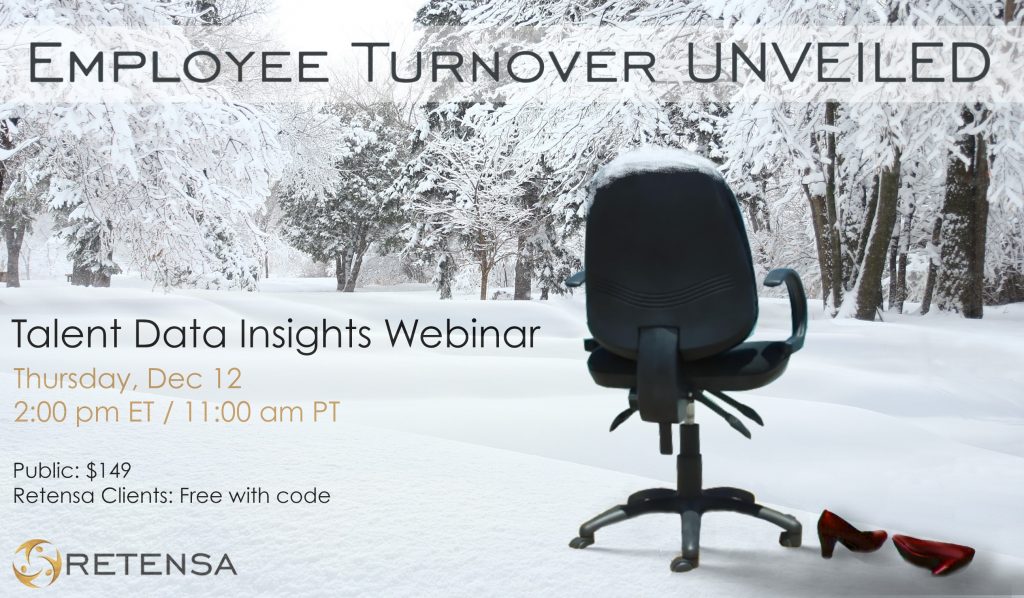 What are you giving your company this holiday season? Don't worry, in the festive spirit of Retensa, we have the gift that keeps on giving: predictive retention analytics. Our statistician elves spent the year collecting and analyzing turnover data across 54 countries to identify who, what, where, and why employees leave.
It's like a fruitcake of knowledge you'll actually use.  If you're on our nice list, get ready to learn:
What is the top reason people leave in 2019?

How should we rethink the work-life equation?

Why millennials quit so easily?

Where to focus first to create a culture of retention?

Is compensation the #1 reason for resignation?
Thursday, December 12 @ 2:00 PM (ET) / 11:00 AM (PT)
Join HERE to Unveil the Answers
Here at the Retensa workshop, we study millions of data points to find all the hidden secrets of the workforce. It's time to unveil our findings and give your company the gift of turnover insights to improve your employee retention strategy.
Employee Turnover UNVEILED: 2019 Talent Data Insights Webinar
Non-clients: $149
Retensa clients: FREE
(Use Promo Code "TURNUP19" for free access)*
All attendees will receive:
60 minutes of fresh insights to target your retention strategy

Advanced analysis of the separation trends (PDF report)

Answers to what makes current turnover different

The best HR gift you could ask for
We'll see you there!
*Exclusive for Retensa clients. Please register with your work email. All registrants are verified prior to attending the webinar.