website
Brio and Retensa Webinar: 6 Steps to Attract, Motivate, Retain Top Talent for Small-Midsized firms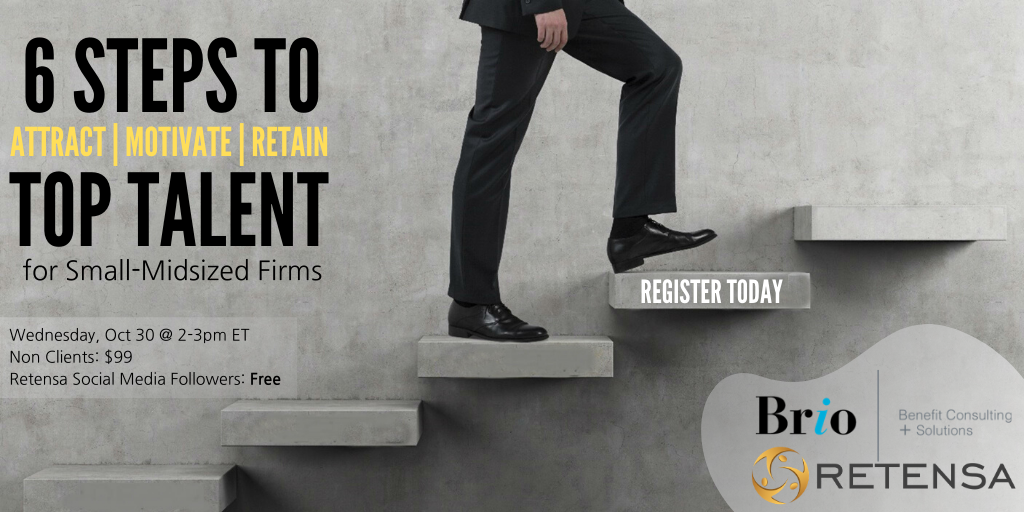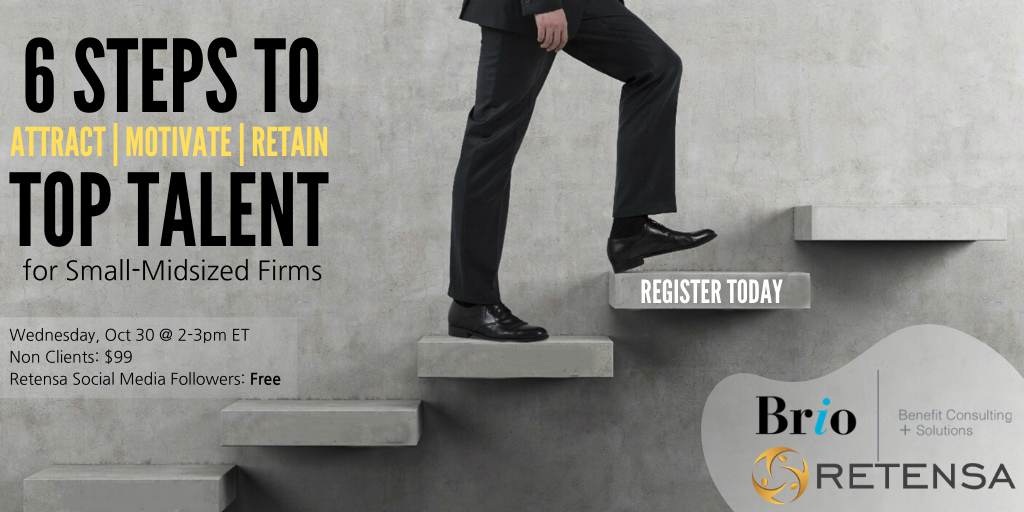 Say goodbye to the goodbyes.
If you are a small to midsized firm, each employee matters. Having less resources means when one employee departs, it impacts everyone. Saying goodbye to a high performer can cost upwards of 1.5x to 2x an average employee's salary (not including your mental sanity). Thankfully, Brio Benefits Consulting has invited Retensa to present an informative and interactive webinar on Wednesday, October 30, 2019, about the "6 Steps to Attract, Motivate, Retain Top Talent for Small-Midsized Firms."
 This webinar will help any HR professional to:
Measure the impact of employee turnover on your organization's bottom line

Pinpoint why employees join, stay, and leave your organization

Create action plans and tools for retention that are tailored to your workplace
6 Steps to Attract, Motivate, Retain Top Talent
Wednesday, October 30 @ 2:00 pm ET / 11:00am PT
Non-clients: $99
Retensa clients: FREE
(Use Promo Code "6Steps99" for free access)*
This month, unemployment hits a 50-year record low and voluntary turnover is reaching record highs across most industries. More often, it is not the low performing staff that quits, it's the top talent. It's time to take charge of your company's retention strategy. With this data packed presentation, learn what is proven to keep employees happy and how to motivate them to consistently perform their best—because a happy high performer is just good for business.
Say goodbye to the goodbyes! Your budget will thank us.
See you there.
About Brio Benefits
Brio was founded on the principle of getting away from the traditional broker model. After years in the insurance industry Brio's founders realized that the model simply wasn't working. A reactive process to benefits was leaving too many employees, executives, and HR teams frustrated and unhappy with renewals and benefits year after year. Brio Benefit Consulting, Inc. is a full-service employee benefits consulting firm offering customized solutions for their clients. Brio is committed to delivering solutions that advance the objectives of their clients and their employees. More information by calling 212.803.7160 or at www.briobenefits.com
*Promo code for Retensa clients only. Promo code uses will be verified before registration approval